So I finally got around to reading the
infamous script
for George Romero's version of the Resident Evil movie, and naturally I had to log my reactions as I was reading it.
-First off, OMG IT ACTUALLY STARTS WITH A
ZOMBIE ATTACK.
IN A
LAB.
I guess it's coincidence that one of the scientists' names was Marcus? Idk, but heck yeah, a decent-sounding intro.
-And then ahaaaaaaa, ten minutes in and we have a Chris/Jill sex scene. Even if Chris is suddenly part Native American and a bird watcher. lmao idek. Whatever, I'll take it.
-WAT JILL IS ON BRAVO?
-lmao what is with Wesker's tattoo? "A grinning skull." ....Yeaaaaah no.
-FFFF BARRY IS A BLACK GUY. There's
always
someone who changes race in a film adaptation. Shoulda figured it'd be him.
-What whaaaat why is Wesker evacuating Raccoon at the first sign of something going wrong in the Arklay Forest? :O It's not like he, you know, CARES. ...Right?
-Well, the military got on the evac pretty darn quickly. And wtf, is Chris not even a part of S.T.A.R.S.?
...Ahahaha he just kicked a guy in the crotch and ran. Guess not.
-Awwwwww, Chris' favorite horse died. :'(
...Awww, Chris had to shoot it anyway. :'''(
...Aw, his little dog died, too, and is already turning.
-HEY CHECK IT OUT, BRAD, RICHARD, KENNETH, JOSEPH, REBECCA, AND FORREST ALL MADE IT INTO THE MOVIE :O!! And Brad is appropriately a wuss! ...And there's some OC chick named "Rodriguez," and now I'm just picturing Michelle Rodriguez. Ew. B[
-Awww, Chris thinks Jill is dead -- oooohhhh, I see. He's gonna sneak in the mansion, too, and get caught up in everything incidentally.
-Whoop, there goes Joseph, right on time. ...Okay, that's kind of badass, Wesker shooting Joseph AND the Cerberus eating him.
-Let me just say: THANK YOU, ROMERO, THANK YOU. YOU ACTUALLY KNOW AN M16 FROM A GLOCK -- WHAT'S MORE, YOU KNOW HOW GUNS ACTUALLY
WORK
, AND I AM WILLING TO BET THE CHARACTERS ARE EVEN HOLDING THEM CORRECTLY, TO BOOT.
-AHAHA OMG WESKER AND BARRY HAVE A
BROMANCE
GOING ON X'DDDD
-lmao what, Chris, you have a seekrit tree room? THIS IS NOT HARRY POTTER.
-Wow, Wesker actually isn't hiding that he knows something about all this.
-Hoo, boy. Richard and Kenneth, shut up already.
-So Arklay is now
Arkley
, and Arkley built the mansion, not Trevor? What about Spencer?
-Ohhhh, they're here to save Dr. Marcus -- assuming Wesker's being honest.
-YAY, JILL'S ALIVE! AND
COMPETENT!
\o/
-YAY, ZOMBIES!
-...lol okay, this was funny:
Wesker: "Three men stay here. Chambers--"
Rebecca: "I'm not a man."
Pffft. XD
-Oh, and now Wesker openly has a map of the mansion -- and oh, right, good idea, leave the ROOKIE KID to stand guard by himself in the
snake room
library.
-WHOA, Chris' seekrit tree room leads into the mansion?? wtf is this??
-Wait, Chris doesn't know what S.T.A.R.S. is? ...Pfff, Jill was all grumpy about
his
hobbies, but she never even told him her job? B\
-WOO! CHRIS JUST WENT
ZOMBIE WRASSLIN'
-Oh, wow, did Plant 42 make it into this movie, too?
-AHAHA BEST ENTRANCE EVER: Jill appears and puts her gun to Wesker's head and starts screaming at him. HECK YEAH.
.....Oh, wow.
Wesker: "Put down the gun."
Jill: /clicks hammer back
Wesker: "Put down the gun."
Jill: "Not until--"
Wesker: "RELEASE! THAT'S AN ORDER, SOLDIER!"
Jill: ........./obeys
...This is already my favorite scene.
-NO WAIT AHAHA ACTUALLY THIS IS:
Wesker: [gestures gallantly] "Ladies first."
Jill: "Fuck you."
PFFFF X'DDDDDD
FIFTY MILLION POINTS, ROMERO, IDEK I LOVE YOU
-Awww, Jill and Rebecca have a female!bromance going on. :DD
-....Oh, dear God:
Rebecca: "Yes, but... what kind of... human... would do something like this?"
Richard: "Not a vegetarian, that's for sure."
...Welp. On the bright side, it's definitely... very Resident Evil-ish.
-WHOOOAAAAAA, Wesker is just up and telling everyone about Umbrella's secret experiments and the T-Virus?? ...If he turns out to be a good guy, that's gonna be hilarious.
-Okay, his saving Rebecca like that? Badass.
-lmao such a smoooooth entrance, Chris. X'D Scare Brad into nearly killing you and fall into a tub of sharks.
-LOL RICHARD: "[SHOOTS, CAN'T KILL THE SHARKS] Where the fuck is a shark's brain?"
-Pfffff Wesker: "Nice. Very NICE, Valentine! You set off a containment breach!" He and Jill are like obnoxious siblings in here, lmao.
-...You sure do know a looooot about the lab's layout, Wesker...
-PFFFF nice, Chris:
Wesker: /FLINGS HIS IMPORTANT MAP-DEVICE THING AGAINST A WALL
Chris: "That was a smart move."
Wesker: "And... you are?"
Chris: "Nobody. Just a...a local guy... who gets pissed-off when he finds... his farm animals... and his father's oldest friend... dead. And the only woman he ever cared about turns out to be a goddam METAL HEAD!"
Wesker: [doesn't look over] "Valentine... who is this asshole?"
LOL WESKER. I think that's the most IC you've been so far. X'DDD
...O-Oh. Chris is "part of Jill's cover?" ...Ouch. 8(
-WHOA, so Marcus is dead -- but Wesker insists they have to stay and stop the outbreak? FFFFF Y SO HEROIC, WESKER XDD
-lol Wesker called Chris "son." Why did I laugh?
-OOOHHHHH,
BUUUUUUUURN
:
Chris: "You up to the challenge?"
Jill: "Try me."
Chris: (Snappy) "I already have."
HEEEEECK
NAWWW OH NO HE DI'IIIIIIIINT!
-Wow, Wesker totally risked his neck and defied orders to save Barry in the past? ....BROMANCE!! X'DDDDD
They were even childhood friends? Awww.
-...pffff Chris totally hates Wesker already. XD
-WHOA, Enrico's here, too?? HOLY CRAP, ROMERO, YOU DON't MISS ANYONE.
-SERIOUSLY. THIS WESKER + BARRY BROMANCE IS STRANGELY GROWING ON ME. :|
-omg, I was seriously all tense there, thinking Barry had gotten bitten. lmao I'm just like this with the SCRIPT, man...
-Ooooh, NICE, Wesker! The bombs under the mansion are armed and set to blow if his pulse stops -- very classy.
.....and now he's kinda crazy and evil. Theeeeerrre we go.
And back to being badass.
And he actually
really
has something against the T-Virus? :|?
-OH OH, ALPHA MALE TENSION BETWEEN WESKER AND CHRIS~! ...Which Jill stops. Boo.
-Wow, Wesker actually admitted to making a mistake.
-Aw, there goes Enrico.
-Man, so much tension!
-lol Chris, figuring out Wesker's entire plan already.
-AW YEAH PLANT 42!! THE SCRIPT EVEN
CALLS IT "PLANT 42"!!
AND EVEN DESCRIBES PLANT ANATOMY CORRECTLY!
-Poor Jill -- she's the kind of person who always puts duty ahead of emotion, and it's made her turn away from Chris for the moment because Wesker's barking orders. Aww.
-Whoop, there goes Kenneth.
-And Richard -- SWEET, HE ACTUALLY GETS HIS CANON DEATH VIA GIANT SNAKE! :DDD
-Ooooohhh, parallel: Chris is acting like Wesker to get Rebecca to focus.
-Awwwww, now Chris is doing the Comforting Big Brother thing for Rebecca. :']
-AWWWW YEAAAAAAAAAAAAAAAH WE HAVE HUNTEEEEEERRRRRRRRRRRRS!
-There goes Forrest.
-HOLY CRAP WTF ADA IS HERE?? OMG DUDE. ...AND SHE'S A SCIENTIST! And she figures out that Wesker is a double agent (lol irony) for Umbrella! ...And is actually disgusted by it, lmao.
-WHOOOOOOOAAAAAA, MARCUS WAS JOHN! AS IN,
HER
JOHN! WHOA!
-LOL Ada: /takes out gun
Rodriguez: "You know how to use that thing, chica?"
Ada: "Of course I do. I'm a scientist."
PFFFFF THAT IS MY NEW MOTTO. XDDD
-AW YEAH THE TYRANT!! :DDDDD
-Wow, Wesker's willing to share ALL THE MONIES with Barry? ...BROMANCE!! X'DDDD
-AHAHA OMG THIS IS AWESOME -- Jill pulled Wesker's detonator, ready to kill all of them, only to find it on a timer... Wesker goes to shoot her, but Barry says he'll shoot him if he does.
KICK.
ASS.
AND THEN ADA STEALS WESKER'S DATA DISK -- LMAO
SO TOTALLY CANON, Y/N?
X'DDD
OMG JILL KICKED WESKER IN THE HEAD
...LMAO SHE DID IT AGAIN
-Ahaha why doesn't everyone just LISTEN to Ada when she tells them to shoot? You knew Brad was gonna turn.
-Aww, Rebecca and Rodriguez have to drag Jill away because she wants to help Chris.
-Chris: "Orders don't mean shit any more, Wesker. Especially when they come from sell-out bastards like you." <--THIS.
THIS.
THIIIIIIIIIIIIIS
<33333
HOLY CRAP CHRIS WAS MORE IC IN THIS ONE LINE THAN EVERY OTHER CHRIS IN EVERY OTHER ADAPTATION COMBINED
SLDJFSLKDJFSDS
-Awwwww, Chris is hero-speeching Ada! /cues the Lloyd Irving Theme
-WESKER YOU JACKASS YOU SHOT BARRY >8[
-NOOOOOO BARRY DIED DDDDDDDDD'''''8
-AW YEAH WESKER GOT HIS CANON DEATH \o/ .....and was then decapitated, so I guess he's not coming back.
-HEEEE, Chris knows all the little mansion-puzzles! The tiger head, the clock -- YES, ROMERO, YES
-YES! TYRANT BOSS FIGHT -- AND THE PILOT EVEN DROPS THE ROCKET LAUNCHER AND CHRIS USES IT \o/
-Awwwwwwwwwwwwwwwwwwwwwwwwwwwwww, Chris hinted that he wants to marry Jill <3333333
-Wow, just the DESCRIPTION of the shot of the mansion exploding sounds dead-on.
-Whoop, there goes Raccoon, too -- OOHHHH BUT SOME ZOMBIES SURVIVED!
The End.
...
DUUUUUUUUUUUUUUUUUUUUUUUUUUUUUUUUUUUUDE
I know it wasn't perfect or spot-on or anything, but...
DUUUUUUDE
. IT SOUNDED EXCELLENT. Both as an adaptation of the game, and as a stand-alone movie. It had canon characters, an actual plot, character PERSONALITIES and DEVELOPMENT and ALL THESE LITTLE THROW-BACKS TO GAME FANS and was totes something worth watching more than once and dude, it
even tricked me, albeit briefly, into thinking that Wesker could've been a good guy
.
I think that says plenty. I mean, Wesker wasn't the perfect adaptation of his canon self by far, but I admittedly REALLY liked this version of him; he's a much better liar, and even after he all but openly betrays the team, he manages to keep them calm, under his control, and even somewhat trusting of him because he's just that good of a leader. Heck, up to the very end, Jill pretty much chooses him over Chris every time she's forced to. That's hardcore.
On that note, WOO FOR JILL BEING A) USEFUL B) INTELLIGENT C) HAVING A CONSTANT PERSONALITY THAT WAS WAY CLOSER TO HER CANON ONE THAN ANY OTHER ADAPTATION'S.
Just, dude
just.
WTFH
was Capcom smoking the day it decided to reject an actually well-thought-out, PLOT-driven, SOURCE-BASED movie with
actual canon characters
(even small ones!) for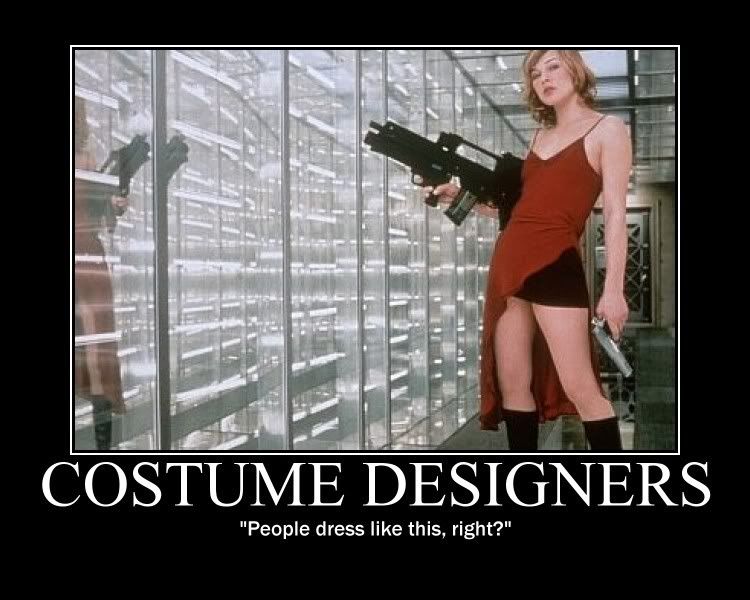 this?
'B|
The world may never know.
Still, it was an honor just to read the script. You da man, George Romero, you da
man.
As if there was ever any doubt.
I want this movie to be made like burning. ;^;